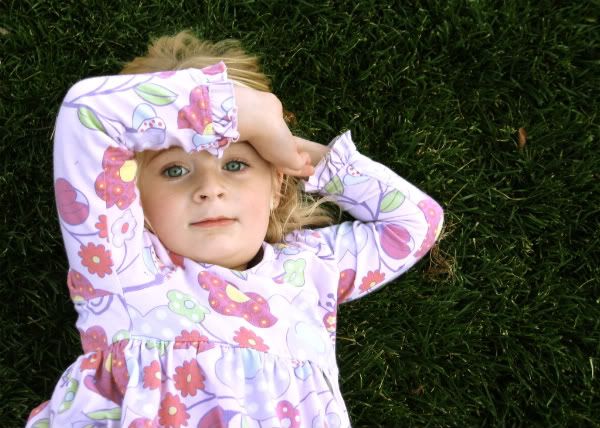 My baby turns three today. I can't believe it. Avery is 98% pure joy and 2% turd. Dave and I are always laughing at her latest phrases and comments. This one is from last night...
"Mom... you're my mom. Dad... you're my sister."
Avery is all girl. She loves her big sis Andie and drives her nuts copying everything she does. Andie is always telling me to make her stop. Of course Avery has no clue what she's doing. She has a "Packpack" she stole from Emily's house (I still have to return, sorry Emily) and wears it everywhere. She puts anything and everything in it. When she wakes up in the morning that's usually what she looks for.
She loves Dora and Little Bear. She loves to eat peanut butter on a spoon. She loves her dollies and playing with friends. She calls the theater in the basement, "The beaver." She loves her dancing class and she loves to read books. She loves balloons and is expecting a pink bouquet to be brought home today. She has definitely got her own little personality that is hilarious. I love it when we're in the car and she is watching a movie and wants me to turn up the volume she'll yell, "Pless play!" ...and I will never correct her.
She gets so excited by the simplest things. Her eyes get really big and she gets a huge smile on her face. I told her it was her birthday and I was going to make her a birthday cake and she yelled, "For me?!" with her big eyes and smile. When Avery is doing something she shouldn't and I get mad she starts crying and yells,"You're mad to me!" So cute.
I also love in the mornings without fail she'll wake up and act like she hasn't seen me in weeks and come running yelling, "Good morning, mama!" and gives me a big hug with a huge smile on her face. She usually always has a smile on her face... except when I'm trying to take her picture. (That is part of the 2% turd.) She is so snugly and lovable and is always saying "I wuv you, mama." I can't believe my baby is three. Even with one on the way, she'll always be my baby.